Wadi Che Sambhar ( Maharashtrian Curry With Steamed Besan Dumplings )
" Wadi" means a slice or a block in marathi and in this curry it is a slice or block of steamed besan immersed in the curry called as "Sambhar " which is not the south indian sambhar but a curry made of "tal le la masala " or fried brown masala paste and coconut milk.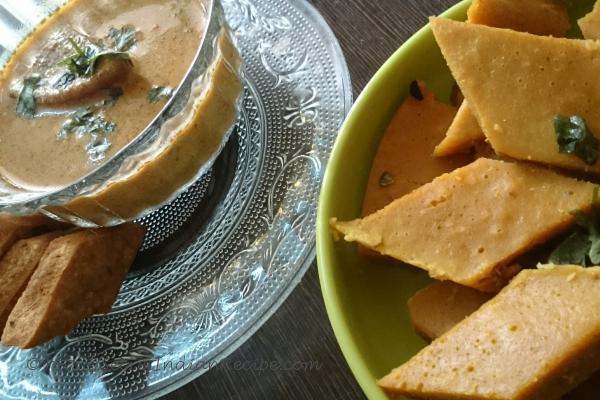 Ingredients:
1 Cup besan (Chana dal Flour)
1 to 1.5 Cups water
¼ tsp turmeric pwd
1-2 tsps chilli pwd
A pinch of sugar
½ tsp dhania-jeera pwd
1 small chopped onion
Jaggery as per taste
1-2 pieces kokum
1 cup coconut milk
2 tsps ginger garlic paste
1 tbsps oil
Oil for deep frying
Salt to taste
Chopped coriander leaves for garnish
Directions:
To dry Roast : 1 tsp whole jeera, 1tsp coriander seeds , 1 tsp khuskhus ( poppy seeds ),1tsp fennel seeds, 2 small sticks cinnamom, 2 cloves, 2 green elaichi, ¼ cup dry grated coconut, 1 small sliced onion and 1tsp oil .
Dry roast the ingredients mentioned for roasting in 1 tsp oil on a tawa and once cooled add little water and make into a smooth paste. This is" tal lela watan" which means fried brown masala paste.
For the "Wadi's " : In 1 cup water add ½ tsp oil , 1tsp ginger garlic paste , salt , a pinch of sugar , dhanis-jeera pwd , a pinch of turmeric pwd and chilli pwd and bring it to a boil.
In a oiled plate spread this mixture and steam it to for about 10 mins to form a nice block.
Cut into diamond shapes and keep aside. After cooling deep fry them in oil.These are the "Wadi's" or blocks.
For the Sambhar : Heat 1 tbsp of oil and sauté chopped onions, remaining turmeric pwd , chilli pwd, ginger garlic paste, the tal lela watan or brown masala paste. Mix remaining besan or 1stp of besan for thickening in ½ cup of water and add to it.
Add coconut milk, kokum, Jaggery, salt and bring to a boil. This is the curry known as sambhar.
Add the wadis that is the steamed or steamed and deep fried wadi's into the sambhar, garnish with chopped coriander leaves and serve hot with chapattis or rice.
Footnotes:
Some people serve the sambhar with only steamed wadis while some prefer serving with steamed and further deep fried wadis.