Jaipuri Korma (vegetables In Sweet And Sour Gravy)
I had this recipe at my friend's native place in 'Palli' in Rajasthan. I found the taste somewhat similar to north Indian Mixed vegetable curry. Originally it has curd and jaggery but I have substituted it with tomato and sugar to match the taste……and it is served with thick chapattis smeared with ghee.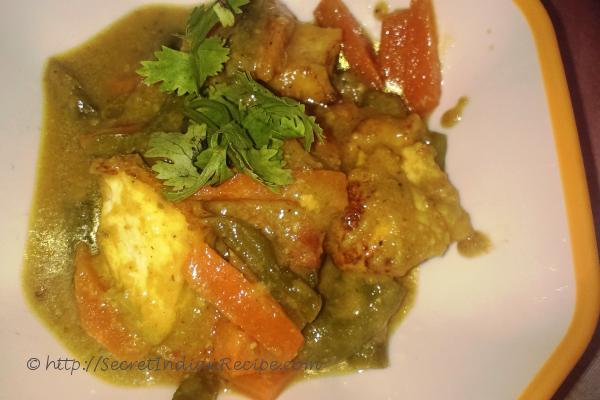 Ingredients:
Paneer (Cottage cheese) – 200 grams
Carrot – 50 grams
French Beans – 50 grams
Capsicum – 50 grams
Onion paste – 1 onion
Tomato – 1 piece
Ginger- garlic paste – 2 tablespoon
Red chilli powder – ½ tablespoon
Turmeric powder – ½ tablespoon
Cumin powder – ½ tablespoon
Coriander powder – 1 tablespoon
Garam masala powder – ¼ tablespoon
Cashew paste – 2 tablespoon
Salt – as per your taste.
Oil – 4-5 tablespoon
Sugar – ¼ tablespoon
Green coriander leaves – 2 tablespoon – Finely chopped)
Butter / Ghee – 1 tablespoon
Directions:
Wash the vegetables and chop into medium pieces. Similarly cut paneer into medium size and keep aside.
Switch on the gas and heat oil in a wok. Once oil is heated, put the paneer and fry it till the sides start turning brownish. Take out the paneer and keep on a plate.
Add chopped carrots and beans in the remaining oil and put a lid on. Cook it on low heat for 2 mintues till the veggies are half done.
Now it is time to add all the raw pastes- ginger garlic and onion paste. Saute the raw paste on medium heat for about 2 mintues. This is to kill the raw taste and smell. Afterwards you can add all the dry spice powders that is, red chilli powder, turmeric powder, cumin and coriander powder. Since the dry powder slightly roasted and then grounded, it requires less time to cook than the raw pastes.
Add tomatoes and capsicum after the masala is fried well and it starts leaving the side of the pan. Mix well and finally add cashew paste, salt, sugar and garam masala.
Mix and check the consistency, if you require more gravy, you can add a cup of water…. Cover with a lid and cook on low heat for 10 mintues.
Stir once or twice in between. Check if the veggies are done. Add the paneer and chopped coriander leaves and mix. Let it simmer for few seconds and then switch off the gas.
Add a tablespoon of butter or ghee, if you wish to and serve with chappati.