Katla Kalia (katla Fish In Bengali Style)
Katla Kalia is a traditional Bengali Dish made of big sized (approx. 3 Kg) katla fish.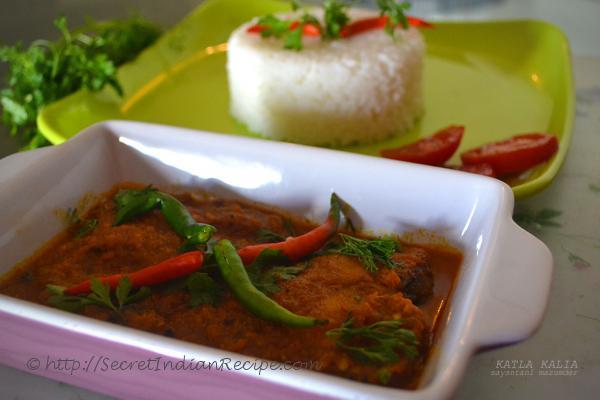 Ingredients:
Katla Fish 4 pieces
Onion - 2 medium sized (paste)
One Onion small sized chopped
Ginger Garlic paste - One and half table spoon
Tomate paste one tsp
Turmeric powder 2 tsp
Curd 2 tsp
Red chili powder - 1 tsp
Coriander 1 tsp
Bay Leaves 2 medium sized
Garam Masala 2 tsp. home made
Clove 2
Cardamom 2
Cinnamon Stick 1 small
Salt and Sugar as per taste
Mustard Oil
Ghee 1/2 tsp
Directions:
Sprinkle some turmeric powder and salt on the fish pieces..
Fry them gollden brown.
Now take another pan and heat some oil.
Add Bay leaves, cinnamon stick, Cardamom and Cloves to it and let them release their aroma.
Add the chopped onion and fry it, until it become Golden brown.
Add onion paste Ginger Garlic and all other spices and cook until oil separates.
Add sugar and salt as required.
Beat the curd with little salt and sugar for another five to six minutes and then add it to the gravy.
Now add some warm water and add the fried fish pieces and cover it with a lid on a low flame for 7 to 8 minutes
At last heat some Ghee in another pan. Add garam Masala and put it into the gravy
Serve with plain rice  
Other Indian Recipes that you may Like !