Pomfret Fish Curry
As a new fish lover, i was constantly tinkering with a recipe that would best suit my tastes! At last the, recipe was there this weekend! And I must say, it's a 9.5 out of ten!! I leave it up to you actually to try and drop in a line of suggestion/ comment!
Note:fresh fish, unlike meat is very tender and has a subtle taste, do not over power it with any masala/ garlic!also use the ingredients in the smallest possible amount( as mentioned)!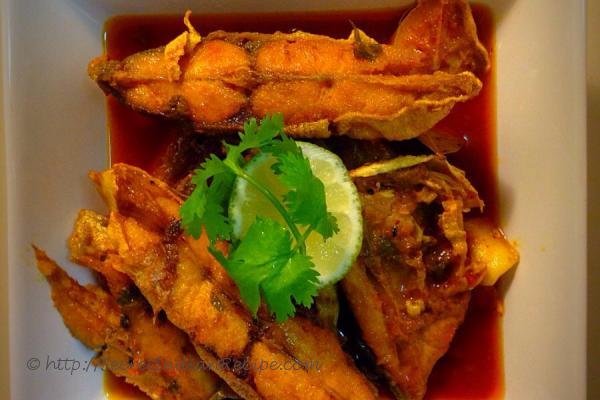 Ingredients:
Fresh Pomfret- 2 medium sized fish, cut as shown
Mustard Oil- 2 cups ( for shallow frying and later for gravy)
1/2 tsp mustard seeds, 1tsp peppercorn, 4 red chillies- soaked for 1 hr- paste just b4 adding
1 medium tomato,1/4 onion,4 green chilli, 2garlic, 1/2 inch ginger- all paste
Green coriander leaves- 5-6 twigs- rough chopped
Kalonji- 10-15 seeds aka Onion seed!, bay leaves-3-4
Turmeric pwdr 1 tsp, cumin pwdr- a pinch, coriander pwdr- 1/4 tsp, salt
Directions:
Marinate the fish in turmeric, 3 tsp oil and add salt just before frying! Fry the fish well, in a med high heat- wear shades to avoid any 'jumping' fish oil! It's funny, but effective! Add small batches for frying, keep them on paper towel.
In same oil which was used to shallow crisp fry the fish above, could be used for gravy( reduce some oil if you're avoiding too much oil)- add the kalonji, bay leaves, and then the tomato onion paste fry well for 7-8 mins, add the pwdr masalas (except turmeric which was used up in marination) sauté well for 10 mins add salt to taste
Now it's time to paste the soaked mustard seeds(black) and add to the gravy cook only for 2 mins and add 'filtered' water ( tap/ high chlorine water n mustard seeds don't go very well!) add the coriander twigs and bring it to a boil. Add the fried fish pieces and bring it to a boil again. Turn off heat, let it sit for 15-20 mins to allow fish to soak up the thin delish gravy. Serve with steaming rice!
Other Indian Recipes that you may Like !