Macha Bhaja (simple Fish Fry)
Macha Bhaja (Simple Fish Fry) is the most staple food in every bengal family. Oriyas are too very fond of fish. In summer, they like to have Macha Bhaja with Pakhala Bhata, which is an excellent coolant to beat the heat of scorching summer. Regular consumption of fish can reduce the risk of various diseases and disorders.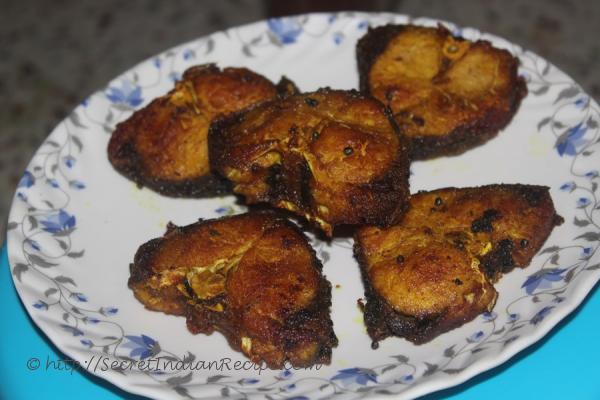 Ingredients:
Bhakura (Catla) Fish 6pieces
Turmeric powder 1/2teaspoon
Salt
Sorisa Tela (Mustard Oil) 8-9 tablespoon
Mustard seeds 1/2teaspoon
Lemon juice 2-3 tablespoon
Directions:
Clean the fish pieces thoroughly and drain the excess water.
Marinate the pieces of fish with turmeric powder and salt and keep aside for 10 minutes .
Heat oil in a Pan; add a pinch of salt to it. Add mustard seeds and let it splutters .
We can add 3-4 pieces of fish at a time and fry on both sides for 10 minutes till gets cooked through and turns golden brown.
Sprinkle lemon juice over the fried fish and enjoy.
Other Indian Recipes that you may Like !