Onakkameen Achar (dry Fish Pickle)
I have always loved dry fish to fresh fish so when I got loads of dry fish from my hometown Cochin, I decided I would pickle them to save the space it was taking up in my refrigerator. This pickle has assorted dry fish though you could select any one of them. Having dry fish in the pickled form also would be less smelly than frying dry fish from time to time plus the bonus of having it spicy will definitely encourage you.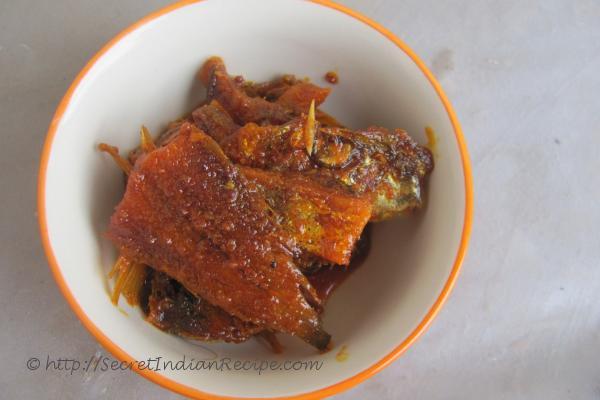 Ingredients:
Dry sole fish- 100 g
Dry anchovies- 100 g
Dry silver carp- 100 g
Dry Milk fish- 100 g
Garlic- 50 g
Ginger- 25 g
Salt- 2tsp
Chili powder- 4 tsp
Kashmiri chili powder- 1 tbsp
Turmeric powder- 1 tsp
Fenugreek powder- 1/2 tsp
Asafoetida- 1 tsp
Vinegar- 100 ml
Gingely oil- 2 cups
Mustard seeds- 2 tsp
Water- 1 cup
Directions:
Wash the dry fish to get rid of the impurities. Soak it in water for 20 minutes to reduce the saltiness.
Spread the dry fish on a newspaper so that it dries completely.
Heat 1/4 cup oil and fry the fish in batches till crisp. If you plan frying assorted dry fish like me, fry each type of fish separately.
Heat the remaining oil in a deep pan and add the mustard seeds. Once they splutter add the ginger and garlic strips.
Fry the garlic and ginger till golden and add the spice powders.
Take the pan off flame while adding the spice powders so that you do not burn them.
In a vessel boil salt, vinegar and water and let it cool down.
Add the fried dry fish to the spice powders and saute so that they blend well with the spices.
Pour the boiled water which has salt and vinegar. Bring the pickle to boil and let it simmer for few minutes before turning the flame off.
Store in sterile jars once the pickle cools down.
Footnotes:
If you plan frying anchovies in your assorted dry fish lot fry them in the end because they smell a lot and flavour the oil.
Check the salt level of the dry fish after frying them before adding salt to the pickle.
Other Indian Recipes that you may Like !