Parsley Parmesan Chicken Tikka
Growing up in Kolkata, chicken cutlet has always been a snack close to heart. While not being able to enjoy it as frequently as I used to, the craving for that spicy tender chatpata snack becomes unbearable at times, and unavailable at Indian restaurants around. Last week on my trip to grocery stop, I was walking down the poultry aisle a pack of ground chicken caught my attention. And that moment, I knew what I was going to make out of it. Traditional chicken tikka with hint of parsley and parmesan cheese...yes...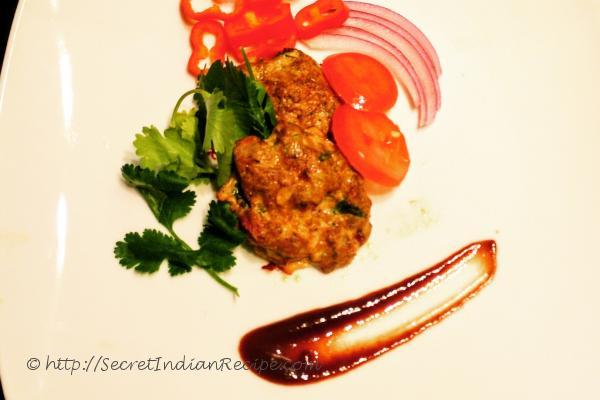 Preparation Time:
1 hr marination, 15 min preparation
Ingredients:
Ground Chicken
Egg (2)
Onions
Garlic (chopped)
Ginger (chopped)
Lemon Juice
Parsley (chopped)
Ground Black pepper
Red chilli powder
Aamchoor (Dry Ginger Powder) powder
Salt
Parmesan cheese (grated)
All purpose flour
Green chilli
Salt
Bhaja gorom moshla ( Indian spice ground mix)
Directions:
Take the minced chicken in a bowl.
Add chopped onions, garlic, ginger, green chilli, chopped parsley, lemon juice and mix thoroughly. It should be mixed well to a form a dough.
Keep it for marination for 1 hour.
Add black pepper, salt, red chilli powder, aamchoor powder, hint of bhaja gorom moshla powder, salt and mix well.
Add the grated cheese and mix little bit. Cheese should remain in the form of visible strands after mixing.
Add egg to the mixture, and mix well.
Make a mix of flour, salt, black pepper and cheese separately.
Take 1 tablespoon of chicken mixture and form a tikka shaped structure using two hands. You can use a round bowl to cut shapes uniformly as well.
Sprinkle flour mixture on both sides of tikka and fry both sides at medium heat for ~10 min.
Enjoy hot tikka with a side of tamarind chutney and fresh chopped onions.