Posto Bata Macher Jhol ( Fish Masala Curry With Poppyseed Paste)
Bengalis are known for three F - Fish, Food and Football. Fish is given an extra status and distinguished from food since Bengalis have a special fondness for fish. You have a fish curry when your stomach is upset, a newly wed bride has to hold a fish before she enters her new house and cook it later, fish is even offered to Goddess during Puja, weekend is incomplete without an early morning visit to fish market. Hence fish has a special fondness over all other food in Bengal. Similarly Bengalis use a variety of spices to cook their fish in different ways and poppyseed or posto as is popularly called in Bengal, is one of them. Fish curry tempered with nigella seeds or kalonji and cooked in onion tomato green chillies poppy seed paste is an absolute delight and very enticing and craving. Poppy seeds have nutritional value and they are easy to digest. They add texture and also help to thicken a curry. The nigella seeds also known as 'seed of blessing' have a nut like peppery taste and when tempered in butter or oil adds flavor to the curry. I have learnt this fish curry in posto from my mom . This curry goes well with any sweet white fish but back in native, Rohu also known as Rui fish is used.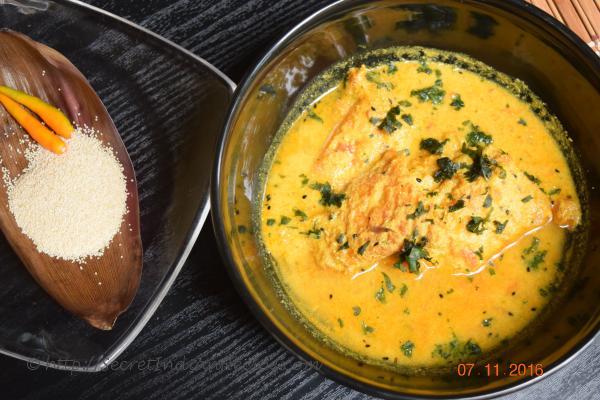 Ingredients:
6 medium size Fish pieces
1 tsp Turmeric powder
Salt as per taste
4 Green chillies for poppy seed paste( adjust as per your spice preference)
4 tbsp Poppy seeds
3-4 tbsp Mustard oil for cooking + 2 tsp mustard oil for marinating the fish
1/3 tsp Nigella seeds(kalonji)
1/2 cup finely chopped Onions
1 medium Tomato roughly chopped
1/2 tsp red chilli powder ( adjust as per taste)
2 Green chillies slit vertically
1 tbsp finely chopped Cilantro for garnishing
Directions:
Take the poppy seeds in a mixer or spice grinder. Grind it coarsely 2-3 times. Add 4 green chillies , pinch of salt and a quarter cup of water or as required. Process the mixer 3-4 times till you get a smooth mixture. Keep this poppy seed paste aside until ready for use.
Wash and clean the fish pieces with cold water. Pat it dry well with a kitchen paper towel. Marinate the fish pieces with half a teaspoon of turmeric powder, pinch of salt and 2 teaspoon of mustard oil. Keep it aside for 10 minutes.
Heat 3-4 tbsp mustard oil in a pan. When the oil is smoking hot, add the fish pieces and shallow fry them on medium high heat till it turns red on both the sides. Take out the fish pieces on a plate. Keep it aside.
In the same pan, add the nigella sides. When the seeds stop to crackle, add the onions and fry them till the onions turn light brown, soft and translucent. Add the chopped tomatoes, salt , remaining turmeric powder, red chilly powder and the green chillies.Cover with a lid and cook on low medium heat till the tomatoes become soft and mushy. Remove the lid and add the poppy seed paste. Fry the onion tomato poppy seed paste mixture on medium heat till the oil separates from the mixture.
Add around 1 cup of water or more as required gravy consistency. Bring the curry to a boil. Lower the heat and gently add the fish pieces. Simmer the gravy on low heat for 5 minutes. Turn off the gas. Transfer the fish curry into a serving bowl and garnish it with chopped coriander.
Serve the posto bata macher jhol hot as a side dish with rice.
Other Indian Recipes that you may Like !