Thekera Tenga Aru Maas (rohu Fish In Dry Mangosteen Curry)
Mangosteen is a sour fruit which is found in Assam and other South East Asian countries. It's deep purple in colour ,rich with antioxidants and vitamin c. Also low in calorie. Ideal for summer.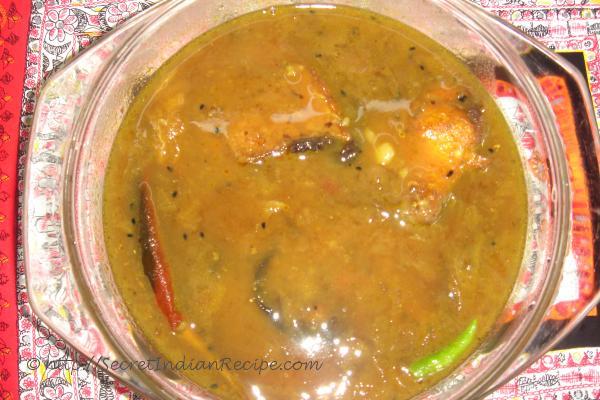 Ingredients:
Rohu fish or basa fish -4-6 pieces
Salt and Turmeric powder for fish - 1/2 teaspoon
Dry mangosteen -5-6 no petals
Panch foron -1/4 teaspoon
Green chilli-2
Boiled potato - 1 mashed
Mustard oil - 4-5 tablespoon
Salt to taste
Turmeric powder -1/4 teaspoon for gravy
Hot water
Dry red chilli -2-3
Jaggery or sugar for tinge of sweetness
Directions:
Soak mangosteen petals in little warm water for 1/2 n hour.
Rub the cleaned washed fishes with salt and turmeric powder. Heat oil. Fry the fish till done.
In the remaining oil add dry red chilli and foron. When the foron will start crackle add the boiled potato, add haldi powder to it and fry till everything gets mixed properly.
Then add the mangosteen along with the water. Fry for sometime till the water evaporates.
Then add hot water to it . Add salt to taste.
When the water starts boiling add fish . Cover it till water reduces to your desired consistency.
Add little jaggery or sugar according to your taste.
The taste should be sour with little sweetness.
Switch off the gas. Transfer to serving bowl. Throw two slitted green chillies into the curry.
Serve with plain rice.
Footnotes:
Instead of fish one can use lentil dumpling too.
If you want more sourness then use a few more petals of mangosteen
Other Indian Recipes that you may Like !