Unakka Meen Varuthathu (dried/salted Fish Fry)
Fish is very common and is the most favourite dish of most of the people of Kerala. Dried fish can be used in many different ways. Among that the most common is the dried fish fry.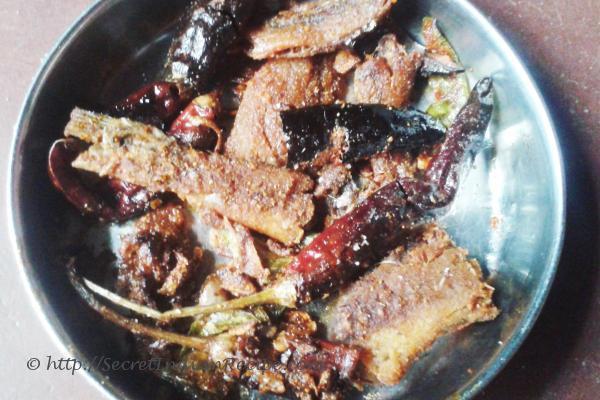 Ingredients:
Dried fish medium sized -2 no
Chilli powder-1 teaspoon
Chopped small onion-2nos
Curry leaves-2
Red chilli-3nos
Oil -2 tablespoon
Directions:
First clean and cut the fish into small pieces.
Add oil in a pan.
When the oil gets heated put the fishes, curry leaves and red chilli to it.
When it is fried, add chopped onion and fry it till it becomes golden brown.
Then turn off the flame and add chilli powder to it.
Mix everything well and enjoy….
Footnotes:
This can be used for a couple of days. So it can be used for long journeys.
Other Indian Recipes that you may Like !