Vanchikaran Meen Curry (fish Curry Of The Boatman)
I love this curry for its name. It so happens that my mom's elder sister got married into a family who lives near the backwaters of Kerala. They have the backwater flowing right in front of their house. My aunt's style of cooking changed a lot after she got married into this family. To begin with this curry uses a lot of shallots, crushed chili flakes and garlic along with a special ingredient a coconut fermented vinegar. This curry is named so because it is considered to be a quick fix curry for boatmen and fishermen when they go for an early catch. They don't need to saute a thing because this curry is a simple dump it all and boil curry. It tastes awesome after a day and therefore it is ideal to prepare this curry a day ahead.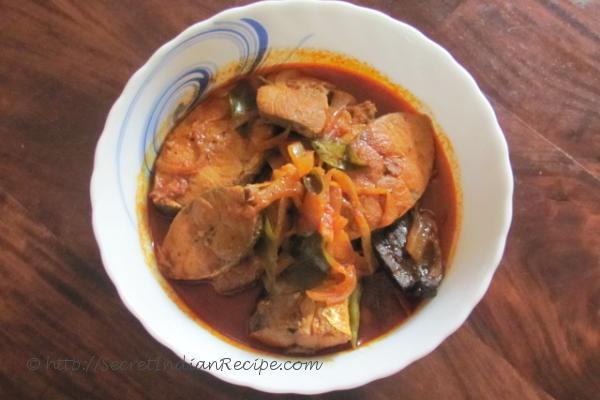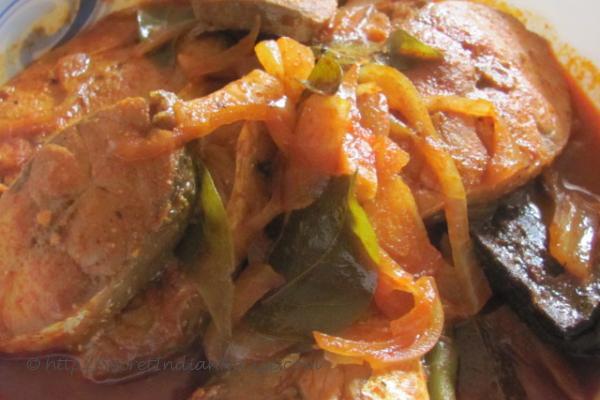 Ingredients:
White Tuna- 500 g
Onion-1
Shallots- 20
Garlic- 20 cloves
Green chilies- 5
Chili powder- 1 tsp
Chili flakes- 3 tsp
Turmeric powder- 1/2 tsp
Fenugreek powder- 1 pinch
Coriander powder- 1 tbsp
Ginger- 1 inch piece
Coconut vinegar- 3 tsp
Water- 2 cups
Salt- 1 tsp
Kudampuli- 2 pieces
Curry leaves- 3 sprig
Coconut oil- 2 tsp
Directions:
Clean the fish and slice them into medium size pieces. Soak the kudampulli in 1/4 cup water after washing it.
In an earthen pot add the spice powders and salt along with the water. Mix well and set it on fire. Add the fish, minced ginger, shallots, garlic, chili and sliced onions.
Add the curry leaves, kudampulli with its water and cover the pot with a lid. Once the curry comes to a boil lower the flame and take the lid off.
Cook the fish for 15 minutes. Do not stir the curry this will break the fish. Once the fish has cooked which you will know by touching the fish(it would be firm) add the coconut oil.
The water in this curry would have reduced by half so take the curry off the flame. This curry can be had with rice as well as mashed tapioca.
Footnotes:
Kudampulli is a special tamarind like kokum and is used for fish curries in Kerala.
Any other vinegar can be used but the taste of coconut fermented vinegar is the best.
Other Indian Recipes that you may Like !