Watermelon Rind Murabba (tarbooj Murabba)
Hello everyone made something very unusual. Watermelon rind, generally we throw it in trash but they are edible. It has many health benefits like the rind contains many aminoacids, citrulline, which is important for our heart health and immune system; it also helps in reducing the blood pressure. Keeping this in mind, today I have turned the rind into something tasty i.e. - Watermelon Rind Murabba.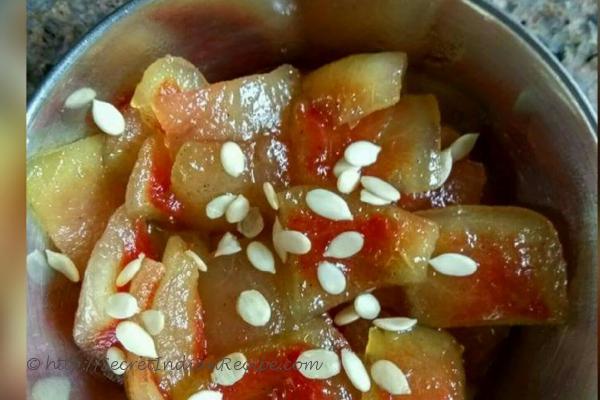 Ingredients:
Watermelon rind - 1 bowl (removes the green hard part)
Cardamom powder - ½ tablespoon
Sugar - 1cup
Bay leaves – 2
Water
Muskmelon seeds (for garnishing)
Directions:
Take peel of watermelon and remove its outer green hard part, wash it and cut it into desired shape (small or big as of your choice).
Now with the help of fork or tooth pick, prick it.
For blanching: Take a deep bottomed pan, add water, watermelon rind and give it a boil for 5-7 minutes.
Sieve the extra water and allow them to cool.
Remove the excess water by gently squeezing them. Keep aside.
Take another pot; add water, sugar, bay leaves, cardamom powder and mix well to dissolve sugar.
When sugar starts boiling, add the rind. Cook it on low flame and keep stirring occasionally.
Boil until syrup is thick and also check the translucency of rinds. It will take around 30-40 minutes.
Cook till you get one strand of sugar syrup. After you get one strand of syrup, off the flame and let it rest for 2-3 hour or overnight in fridge. So it can absorb the syrup inside it.
And it's done. Keep it in an airtight container.
Serve Watermelon rind murabba with few muskmelon seeds.