Bharli Vangi (stuffed Brinjal)
This is one of my absolute fav recipes... Bharli Vangi or Bharleli Vangi is a simple Maharastrian dish, packed with flavour. The main ingredients for this recipe are fresh coconut, goda masala and small brinjals. I personally think that this dish tastes the best using small purple brinjals and not the big ones... So here is the recipe...
Note: Goda masala recipe link is in the footnotes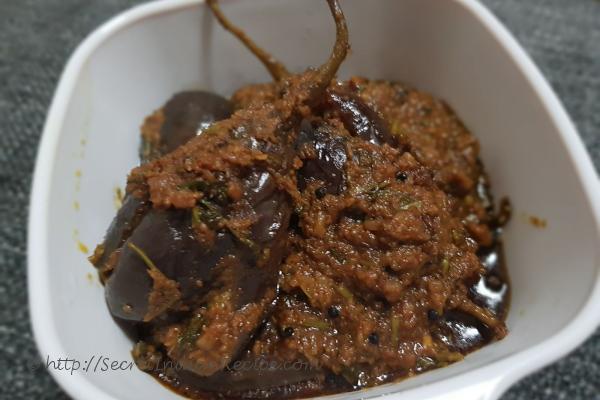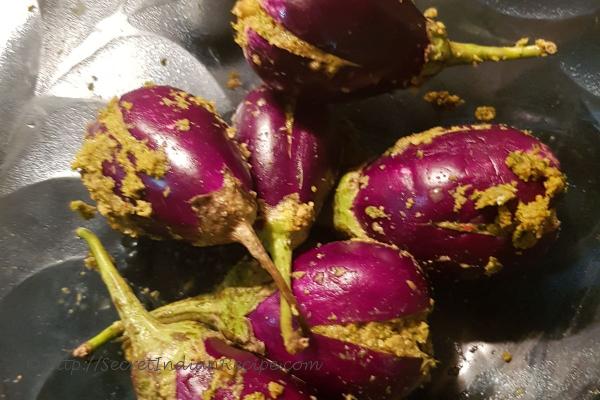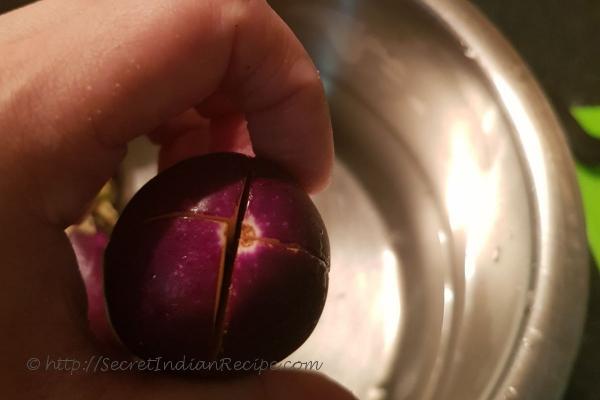 Ingredients:
Brinjal : 5 small nos
Fresh grated coconut : 2 Tbsp
Goda masala : 1 & 1/2 tsp
Green chilies: 2
Garlic clove 1
Ginger Garlic paste: 1/2 Tsp
Turmeric 1/2 tsp
Red chili powder 1 tsp
Jaggery grated 2 Tbsp
Salt 1 Tsp
Tamarind pulp 1/2 Tsp or tamarind water 3Tsp
Onions 1 finely chopped
Mustard seeds and Cumin seeds 1/2 tsp each
Hing 2 pinches
Coriander leaves chopped 5-6 tbsp
Oil 4 tbsp
Directions:
In bowl take coconut, garlic clove, 1 green chili, 1/2 of the coriander leaves, 1/2 Tsp goda masala, 1/2 tsp salt and grind smooth without using any water
In a kadhai heat oil, add cumin and mustard seeds and let them splutter. Add hing followed by chopped onions. Add remaining salt or to taste and cover and cook for 2mins
After 2 mins, add green chilies, ginger garlic paste, turmeric, remaining goda masala, red chili powder and 1 tsp ground masala (the one we ground in step 1) cover and cook on medium flame
While this masala cooks, slit the brinjals length wise as shown in last image. Keep the brinjals in water to avoid blackening
Now take the masala and stuff in between the slits in the brinjal . Add the brinjals to the kadhi and add 1/2 cup water
Add more salt to taste and add sugar. Allow the brinjals and masala to cook for atleast 10-15 minuted on low-medium heat
After 15 mins, add chopped coriander leaves, 1 tsp garam masala , tamarind water and cook for another 15 mins on low heat. Add little water if the masala has completely dried out.
When the brinjals are well cooked remove from heat and serve hot with rotis
Footnotes:
Goda Masala is a maharastrian everyday masala... Check this goda masala recipe by Shilpa Joshi. You can easily find goda masala in grocery stores these days. http://secretindianrecipe.com/recipe/goda-masala