Exotic Garlic Bread
Crisp garlic butter infused bread slices topped with exotic veggies and mozzarella !!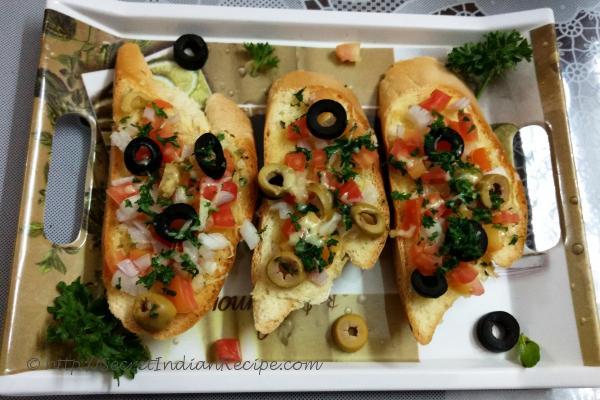 Ingredients:
1. French Bread (Soft Baguette) – ½ Loaf
2. Butter – 2 Tbsp (at room temperature)
3. Garlic Cloves – 10-12 (crushed)
4. Parsley – 1 Tbsp (finely chopped)
5. Onion – ½ pc
6. Tomato – ½ pc
7. Green & Black olives – 2 Tbsp
8. Cheese, Italian Mix, Chilli Flakes – for garnishing
Directions:
1. Peel and crush all the garlic cloves with a knife and finely chop it.
2. Mix chopped garlic with butter, mix well and keep aside for 15-20 minutes, so that the garlic flavour is infused in the butter.
3. Take the French loaf, cut it diagonally in 5-6 equal parts, using a chef knife.
4. Finely chop onion, tomato and parsley leaves.
5. Nicely spread the garlic butter on both sides of the bread pieces.
6. Put the bread on a micro stand, and convection cook it for approx 3-4 minutes.
7. Take out the bread, and top it with chopped onions, tomatoes, and olives. Garnish with Parsley and grated cheese.
8. Convection cook it again for not more than a minute, so that the cheese melts on the top.
9. Sprinkle few chilli flakes, and pizza mix on the top. Plate it, and serve it hot.
Footnotes:
You can also toast the bread on a pan in case of absence of a microwave.